Beading can be therapeutic. Here's some feathers on a twisted rope beading endeavor learned by watching YouTube channels. Apologies for the foggy photos. Didn't get much rest for a couple days. Anyway, besides the feathers, color therapy is helping tremendously.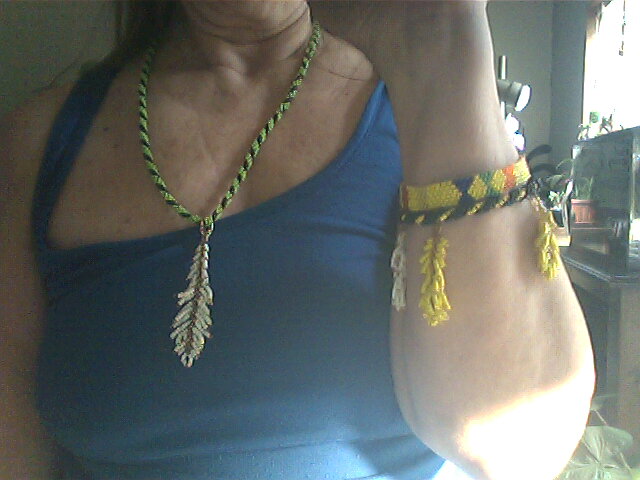 Frustration
My all-in-one Lenovo computer overheats and shuts off randomly. The temperature rise is an internal cooling fan. Since it's such a pain to dismantle, I'm guessing it'll stay this way till I'm brave enough to DIY. Watched a dude tear one down on YouTube. He used a special tool to pry open the front portion. It needs dusting and a CMOS battery replacement might give it a boost.
Diversion
Little things conquer big problems. For every small problem, there's a solution near by. For instance, this window shade is broken. Funds don't exist—no rush to replace it any time soon with overwhelming priorities in front of it. This walking stick can prop it up so the window lets fresh air circulate. Being unemployed seven years has not made my vision go away. There's hope! A simple hobby comes along to play. Several hobbies while some get more attention than others.
Uncommon goals
People learn from others. Observing and doing, hopefully, always learning. The most brilliant minds have synergy with specific purposes. Synergy joins like-minded people to produce common goals. Yet conflicting interests exist within teams, partners, and such. Survival mode in the corporate world will stomp people out to get to the top of the chain. In contrast, finding a unique demand calls for more than a competitive spirit. It demands a strong interest that rises far beyond people.
The diversion in hobbies makes me function best. Whatever my special interests are inspires me to keep on chugging, waking up early to appreciate life. It might keep me awake or exhaust my effort as well.
Peyote stitch book
Tonight I discovered braceletbook.com with abundant peyote stitch projects to choose from:
---